Welcome back to part 3 of my California recaps! I promise this is the last one! After a couple of days in
San Francisco
and
Sonoma
, Wednesday through Friday morning were spent in Yountville, which is just a short drive from Downtown Napa! Thursday was our first full day in Napa, so we went all out again, hitting a few different wineries and exploring as much as we could!
Our first stop of the day was
Domaine Chandon
for a flight of bubbles.
Chandon has beautiful views and grounds. The only thing I didn't love about it was that you had to go up to the bar for each glass of your flight instead of table service... I personally liked trying all of the different wines in a flight simultaneously at the other wineries so I could compare each one and just sit and relax without having to get back up and go inside (hah that makes me sound so lazy). So, this one-by-one thing wasn't really my favorite. Nonetheless, the actual winery was beautiful and I'd recommend it!
Up next we drove over to
Mumm
! We didn't do another flight, but instead each got a glass.
Mumm
is a gorgeous farmhouse style winery overlooking the vineyard. We sat outside and it was a really beautiful place to hang out for a little bit in the afternoon. They also have an art gallery that we walked through.
After
Mumm
we were pretty hungry for lunch. We went back to Yountville where we were staying and had lunch at
Bouchon Bistro
! I was excited for French food, and my mom was very excited to be heading to one of Thomas Keller's proclaimed restaurants. I had the escargot and a glass of Sancerre and it was absolutely delightful. I don't think I'd had escargot since the first time I went to Paris when I was 16, so I knew I had to try it again!
Thursday afternoon after lunch we drove out to Carneros to shop a little in their downtown area! It was so cute!! After Carneros we shopped a little bit in St. Helena because it was right on our way back to Yountville.
There was a
Restoration Hardware restaurant
a couple blocks from our hotel in Yountville that looked beautiful, so I wanted to try it before we left town. We went for a late "dinner" on Thursday night, but neither of us were really in the mood to be out so we just ordered an appetizer to share and went home. It was a
beautiful
restaurant though, so I'm glad we at least got to check it out!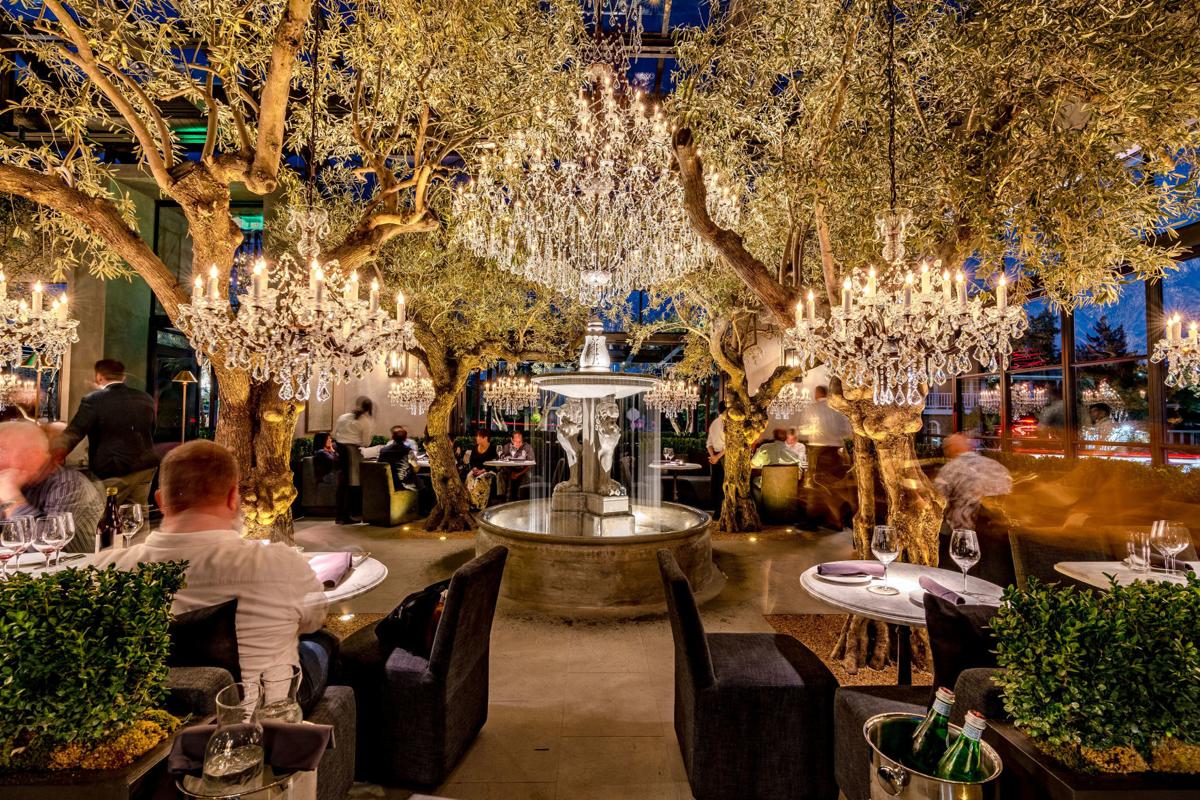 like...
gorgeous!
Friday was our last day in California, and it was another busy one! One of my dad's sisters and her boyfriend have a lot of connections in Napa so they got us into a private tour and tasting at
Spottswoode
, which might've been my favorite winery of the entire trip! (
thank youuuu Kelli and Luke!)
Spottswoode
is pretty small, but it's so beautiful. The family estate is down the street from the winery and we got to walk around the property, which was unique. This was the only winery where we actually did a tour, and I'm so glad we didn't miss out! The tour was really interesting, from learning about and tasting the grapes right on the wine, to getting inside the cellars and the production rooms (I don't know what else to call it haha). This was the only winery where I tried red wine, which was also a cool experience because I don't know as much about reds!
After Spottswoode we drove to downtown Napa to do a little shopping before driving back to San Francisco. One of my friends recommended to me that we check out Lands End, and I am
SO
glad we did. The park is right on the coast and it's amazing. The trees, cliffs, ocean views... gorgeous. Lands End is a park with a beach on the other side of the bend. It was nice to walk around for a little and explore
a different side of San Francisco than we had earlier in the week
.
After Lands End we went to see the Height Ashbury neighborhood, Castro neighborhood, and then drove out to Palo Alto!! Our flight wasn't until midnight so we honestly had so many hours to kill that we decided to hit another part of California! We actually just drove straight to the Google Headquarters, which was fun to see, and then drove from Google over to Stanford to see the campus, which was beautiful.
After all of our exploring we made our way to the airport!
The trip was amazing and I'm so happy I got to spend a full week with my mom! We had so much fun and I loved getting to explore California with her!
xoxo